Magical place in the Cévennes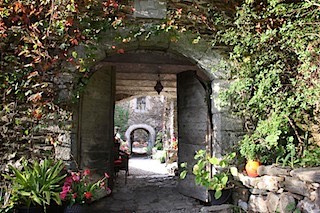 Ever since the 14th century, 'Las Donzelesches' has been a landmark in the fascinating scenery of the Cevennes.
This magnificent fortified 'Mas' consists of several buildings erected in the typical style of the region with slate and granite. With its archways, alleys, cellars and courtyards it is a small world in itself, surrounded by terraces with fruit and chestnut trees, sheltered fields and meadows with sheep and goats. After centuries of bristling life, alternating with periods of silence and idleness, La Donzelenche, age-old but not worn-out, has been lovingly restored to its old glory.
It is the ideal spot for a wonderful holiday, a family gathering or for an unforgettable celebration. A place to unwind and find peace of mind and inspiration. To enjoy the Mediterranean climate, the overwhelming nature and the many possibilities in the area. 
Staying in your unique and comfortable gîte or chambre in this authentic Mas or your beautiful spot on our eco-campsite will give an unforgettable dimension to your stay in the Cévennes.

Take your time to unwind.


                          Cévennes and Causses on UNESCO's list of world heritage.